Scotch Eggs with Honey Marmite Aioli
Three days in New York City.  It sounds like and adventure, and with this being just the fourth time I visited the Big Apple, there's plenty to do and see.  When I flew out for the Kosher Food and Wine Experience last year, I was excited by all the different places I could eat.  Almost every breakfast, lunch and dinner made it's way into this blog post and one of those meals even inspired my chicken rumaki recipe.
Information! Keep reading until the end, there's a KOL Foods Giveaway after the recipe and you could win a 5lb Rack of Lamb worth $129.49 (free shipping)!
This time, I didn't just eat.  I cooked. I cooked with Melinda of Kitchen Tested.  Melinda started to write about food a couple of months before my first recipe and she's no stranger to This American Bite.  Her Triple Peppermint Chocolate Brownies and Bourbon & Brown Sugar Salmon are two fine example of culinary excellence that she has shared here before and we both wanted to try something new.
As a tribute to my roots, we decided to pick two British recipes.  I made scotch eggs, Melinda chose a Lancashire hotpot and as the food cooked, the kitchen was full of aromas and cameras.   The day looked a lot like this.
I've been wanting to make scotch eggs for a long time and there's no better meat to use that KOL Foods organic, pasture raised sausage and lamb bacon.  The sausage is so rich in flavor that there was really no need to add much seasoning at all.  KOL Foods are leading the industry with their organic products so the only addition to the sausage and kosher lamb bacon was one jalapeno pepper that we put through the meat grinder.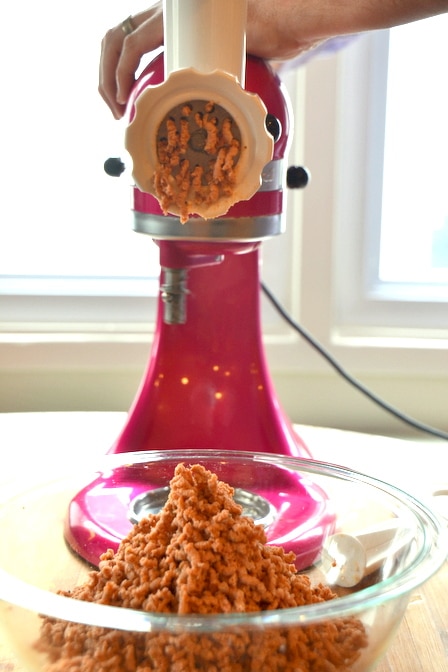 If, like me, you don't own a meat grinder of your own, it's time to buy one. I had SO much fun with this kitchen accessory and they are cheaper than I thought.  Once the meat mixture was ground, it needed a quick mix and then it was time to form our scotch eggs.  Just like the last time I cooked with another food writer I made a time lapse video of the whole thing.  Here are sctotch eggs in 90 seconds. 
Paleo Scotch Eggs

You will need the following ingredients for 7 scotch eggs

Begin by boiling  your eggs.   Once they have boiled, peel them and set them aside.  

Grind the lamb sausage, lamb bacon and jalepeno pepper, then mix the meat together with your hands.

Once the meat is mixed, fill your palm with the meat mixture, flatten it into a patty then wrap it around the egg.  If that sounds strange, watch the video above to see how I did this. 

Once you have wrapped each of the eggs in meat put them in a pre-heated 425 degree oven for 45 minutes.
Use this time to pour yourself a glass of wine and make the marmite and honey aioli.  That's right, marmite.  Melinda was so excited about the jar of marmite that I gave her that we had to work it into our day of cooking. 
Marmite Honey Ailoi 

Ingredients

1 raw egg
Juice of one lemon
1 teaspoon marmite
1 teaspoon honey
1/2 cup walnut oil or olive oil

Combine ingredients with an immersion blender until they form an aioli that looks like the photo below. 
 We were so pleased with the results of both of our dishes.  The scotch eggs were a throwback to my highschool days, the marmite was a rocking addition to the plate, and Melinda's Lancashire Hotpot was simply delicious — possibly the best thing British food has to offer.