When it comes to the kitchen, I know my comfort zone. There are tools I gravitate towards and flavor profiles I embrace, but I am always trying to push myself to create, or recreate something for the first time. Never before have I made schug and as I was cleaning up after making this awesome jalepeno based condiment, I wondered why I had never done this before. Following this schug recipe and making this condiment at home, also means you can control how spicy it is.
No matter how you spell it, skhug, schug or zhug, it is very popular in the Middle East.  If you can eat it in a pitta bread, you can put schug on it, but unlike its cousins hummus and tahini, it has a kick and is not embraced to the same degree (although I'd say it is a little more popular than the pickled mango condiment known as "ambah"). I don't recall my introduction to schug, it may have been as an eight year old visiting Israel for the first time, eating felafel from a street vendor. You can buy small jars of schug, made from either red or green peppers, but the recipe I share with you today is fresher, lighter and you can control the level of spice, and I can think of no better use for the jalapeños that we grew in our garden this year.
Schug Recipe
You'll need the following, easy to find, ingredients:
10-12 jalapeño peppers
Half a head of garlic
Handful of parsley
6 tablespoons of olive oil
Salt, use generously
4 tsp of cumin seed (or ground cumin)
Start by slicing your jalapeño peppers in half. Try to have have the discipline not to touch your mouth, nose or eyes until you have washed your hands.  Somehow I always forget this simple to follow note and end up regretting not wearing a glove when handling the jalapeños.
If you do not want a spicy kick to your sauce, remove ALL seeds from the peppers and discard them. Don't be concerned if there is a strong spicy aroma, that is to be expected.  For a mild degree of heat, use some of them, and for a the real hot stuff, just cut the stalks off of the top and use all the seeds. Be sure you know you can handle the heat before you use all the seeds.
Put all the ingredients into a small food processor, with the exception of the salt. Pulse until you have a fine paste, and add salt to taste but do not be shy if you think it needs more salt, I may have used up to a tablespoon as I added and tasted!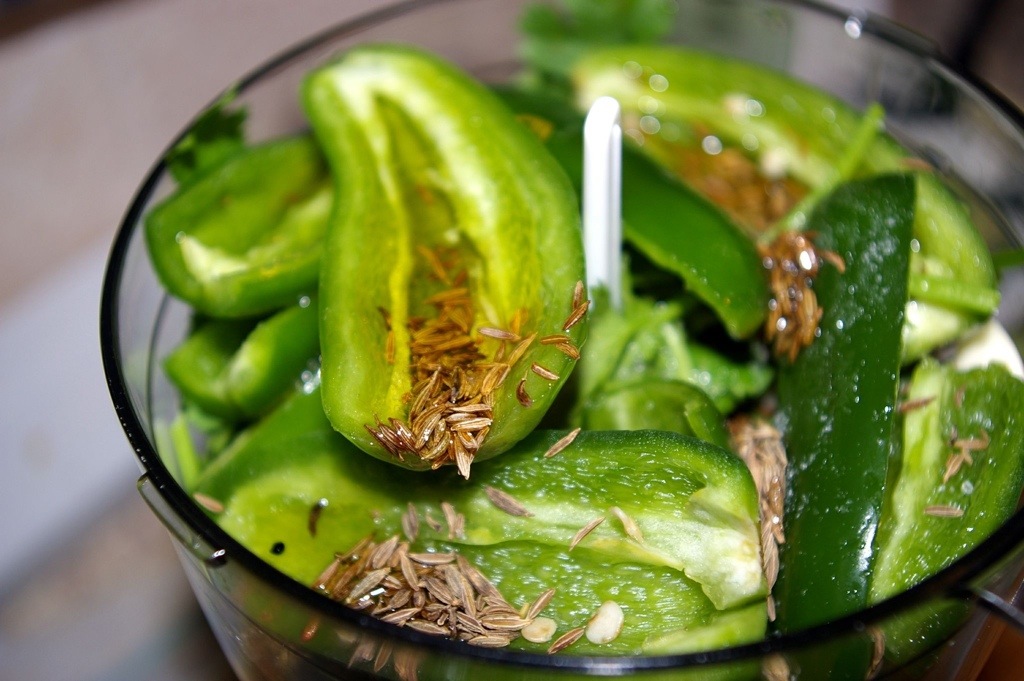 Please do not taste the schug without bread or crackers nearby.  If it is too hot, do not reach for a glass of water, this will just cause further discomfort – there is a reason curry is served with naan or rice and not water!
Once you are happy with the consistency and flavor of your schug, put it into an empty jam jar or mason jar.  Unlike the shelf stable product that you can keep in the fridge for months, I would strongly recommend using the schug within a week to ten days.  I have drizzled it over hummus on warm bread, stirred into soup or used it in place of hot sauce.   Let me know how you like it!