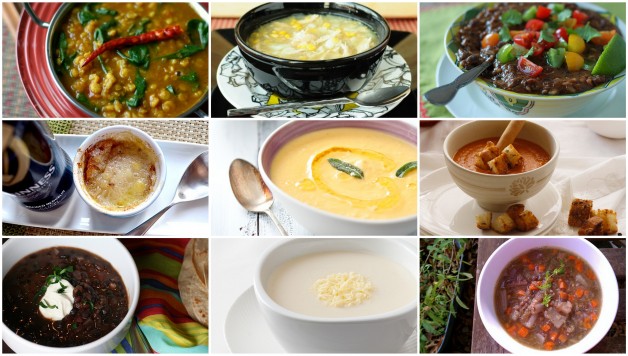 11 Soups to Love this Winter
Published On 7 November, 2013 |
Soup
One of the many things I love about this time of year is the chance to eat soup.  Daily.  The weather cools and the soup can warm you from the inside.  My go-to crock pot soup is my split pea soup because it can sit in the slow cooker all day, and when hunger strikes, you grab a bowl.
This winter, I wanted some new soups to add to our menus and share with my friends.  Here are some of the recipes that will be coming to our table soon. 
One of the most popular post on my site is Kathy Hester's Indian Chickpea Stew.  Kathy's a master in the kitchen and a very talented cook book author!  In fact, I gave away a copy of her latest book in October.  
I'm a fan of all things cauliflower.  Roast it, steam it, cook with it or eat it raw.  I love it.  Somehow, I've never made soup with it.  I love that Mara uses sage, tarragon and thyme in this cauliflower soup recipe too. 
Black beans are somewhat underappreciated in our home.  I serve them with fish tacos or make refried beans for my veggie tacos but rarely make soup with them.  This recipe by Foodie Tots looks great! 
Indian food just feels so loving and my wife make excellent curry.  I love the contrasting green and red colors in this pictures and can't wait to make a batch of this Chana Daal from Everyday Maven.  I can imagine the smell of the garam masala and curry powder as I type!
Here's another black bean soup recipe for you, I wanted to include this one as I love the color and freshness of the lime and tomatoes.  Lime adds great balance, especially if you want to keep your meal dairy free.  Plus, this is a crock pot recipe so you can set it and forget it. 
This one got my attention because I have never made a chicken and corn chowder.  Again, huge props for being able to make this in a slow cooker and come back to it at the end of the day.  I suspect you can skip the stock and replace the chicken breasts with a whole chicken if you'd prefer. 
This is one from my archives.  It's a gluten free, dairy free, creamy treat and it may be the only time I have used tofu as a dairy replacement.  This soup is light so it's not one to serve after spending the day out in the snow.  That said, it's my favorite broccoli soup! 
I really want to make Melinda's Guinness Onion Soup with all the trimmings but we have a dairy-free home and I am avoiding eating gluten.  Just looking at the photos of this dish reminds me of my visit to Ireland.  Melinda is a culinary star and this recipe is no exception! 
Veggie Zest has been a guest here a couple of times, sharing Naan Pizza and Easy Onion Bhaji's with Cilantro Chutney.  The recipes are always delicious and the photos outstanding.  I'm not a fan of tomato soup, but this recipe may just change my mind. 
When I cook with parsnips, I tend to do very little to them.  Salt, pepper, olive oil and I roast them for a good 45 minutes.  They are delicious.  I have some parsnips in the fridge right now and plenty of garlic, so Love and Olive Oil's soup will be served in the next week or so!  
Lottie + Doof have changed the way I roast my chickens and their recipes always inspire  me.  This winter will be the season that I make a garlic soup for the first time, and this is the recipe I will use as my starting point. 
Is there a soup you'd like to see me share?  Which of these recipes would you like me to make my own version of and post here?