Kansas City Split Pea Soup
In February 2013 I flew to New York for 50 hours  to attend the Kosher Food and Wine Experience.  As I made friends and mingled with foodies, there are two questions I was asked over and over again.  First, "isn't that where Kosher on a Budget is from?"  Second, "why Kansas?".  After two years in this fine city, I answered that question my my recent Times of Israel Op-Ed.  In short, these guys gave me the chance to find this fine community.
During the summer that we spent here, two years before we made the move, I was introduced to this split pea soup.  It is the perfect "lazy day" dish to make ahead.  You can scale it up or down as you need making it the perfect soup to serve to a big group.  If you are out of celery, throw in an extra onion. Low on split peas?  Mix in some green lentils.
If you plan to cook it for more than eight hours, add a little more water to the soup at the start.
Vegan Split Pea Soup Recipe
You will need the following ingredients to serve 8.
16 oz. dried green split peas, rinsed
3 carrots, peeled and sliced
1/2 cup chopped onion
2 ribs of celery plus leaves
1 or 2 cloves of garlic, minced
1 bay leaf
1/4 cup fresh parsley, chopped, or 2 teaspoons dried parsley flakes
1/2 tsp. fresh pepper
1 1/2 qts. hot water
Start by soaking your split peas in cold water.  If you can soak them overnight, that is ideal.  If you really don't have time to soak them at all, please wash them thoroughly and let them sit in water for as much time as you can spare.
Once you have soaked the peas, peel the carrots and onions, and place all the ingredients in a slow cooker in the order that they are listed above.
Set the slow cooker to high for four or five hours, or low for eight to ten (at least).  If you don't have a slow cooker, bring this soup to the boil then put on a low heat for eight to ten to sixteen hours.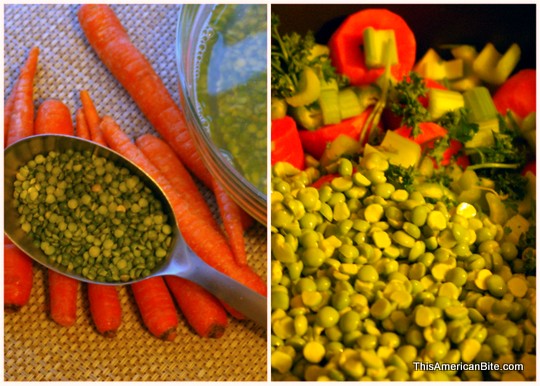 When the soup is cooked, the peas will be soft.  Remove the bay leaf and mix with a spoon, mashing the peas to thicken the soup if you prefer a thicker dish.  If you're not on a gluten free diet, serve with home made croutons.
This soup will freeze very well, and it serves eight people.  Double or quadruple the recipe if cooking for a summer program of hungry teens!