There has been a lot going on at This American Bite recently — you'll noticed the new look of the site. I love it… and I am pleased with the new design, but this was a result of two weeks of server issues and load speeds… all kinds of technical things that kept me out of the kitchen and on the computer. With that on my mind, it was really difficult to write. It was a culinary curve ball of the worst kind. Today's dish comes from Pallavi of Veggie Zest. It's a pleasure to welcome Pallavi back to share another recipe with you, the Onion Bhaji's sharedlast year are amazing too so this is a real treat.
It is so wonderful to be back on This American Bite – thanks Yosef for having me write a guest post again. Today I am doing an unusual pizza recipe. It's a vegan recipe and is a fusion between Indian and Middle Eastern cuisine. I used Naan as the base for this pizza and topped it with tahini, za'atar and veggies. It was so delicious; I served it with some extra drizzle of tahini.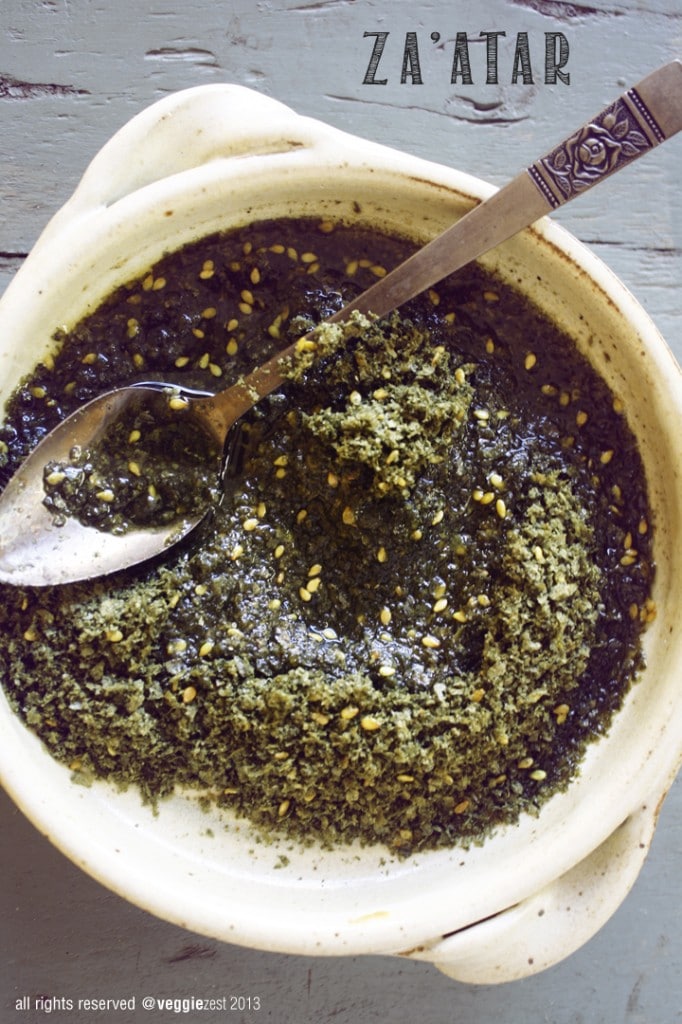 I want to talk a little bit about the naan first. In India, naan is a type of flatbread that is served with curries – it's thin and soft enough so that you can tear it into a bite size piece and scoop dal or a stew or a curry with it. Outside of India, I have seen many variations of the bread and mostly where they use yeast in the dough to make it spongy and thick. The yeasty dough naan can work as a great base for this pizza recipe because it does resemble the texture of the actual pizza base but since this is a fusion recipe and has more of flat bread like flavor I do recommend making the naan at home – fresh and without the yeast. The dough is super simple and calls for minimum number of ingredients. It does not need to rise or anything and is very easy to handle when you roll it out. Homemade naan is so versatile – apart from pizzas you can also make wraps and sandwiches with it.
[sociallocker]
[/sociallocker]
Since there is no cheese or dairy product in this recipe – it's great to carry it on road trips or picnic in the summers. I used eggplant & bell pepper for the topping but you can totally use veggies of your own liking- zucchini, caramelized onions and mushrooms etc. I cooked both the vegetables in separate batches over low heat in some olive oil. The slow cooking brings out the natural sweetness in the vegetables which really compliments the flavor of za'atar. The subtle flavor from tahini also goes really well with the veggies and za'atar and sort of brings all the flavors together. 
Try it fresh out of the oven or on a road trip, this pizza will surely satisfy your taste buds. This pizza makes for a great breakfast as well.
Naan Bread Pizza Base

2 cups all purpose flour
1 tsp baking powder
1 tbsp olive oil
¾ cups lukewarm water (roughly)
In a large bowl mix flour and baking powder and give it a quick mix.
Add oil and mix with a fork. Adding a small amount of water at a time – knead to form non sticky dough. Use as much water as needed.
Let the dough rest for 1 hour.
Divide the dough into 4 to 5 pieces – depending on how big you want the pizza to be.
Roll out each piece into a ¼ inch thick round. I flattened it using my hands but use whatever method feels comfortable.
On a nonstick pan over medium low heat cook naan for 2 minutes on each side. You don't want to cook it completely at this stage since you will be throwing it into the over after putting the toppings on it.
Keep the half cooked naan wrapped in a kitchen towel, while you prepare the toppings.
​
For the Pizza Topping

Tahini
Za'atar mixed with good quality olive oil to form a spreadable consistency
Red bell peppers diced into bite size pieces
Eggplant, diced into bite size pieces
3 to 4 tbsp olive oil
Salt
In a non-stick sauce pan heat 3 tbsp oil. 
Add eggplants and cook on medium low till they turn golden and are cooked through. Add salt.
Transfer the eggplant into a plate – keep aside.
In the same saucepan add 1 tbsp oil and cook bell peppers with some salt till they become soft. Keep aside.

To assemble the Pizza

Pre – heat the oven to 450 F.
Smear a spoonful tahini on naan followed by equal amount of za'atar.
Arrange eggplant and bell pepper on the pizza.
Bake for 8 to 10 minutes or till the edges of the pizza starts to turn golden.
Remove from the oven and drizzle some extra tahini before serving.
​