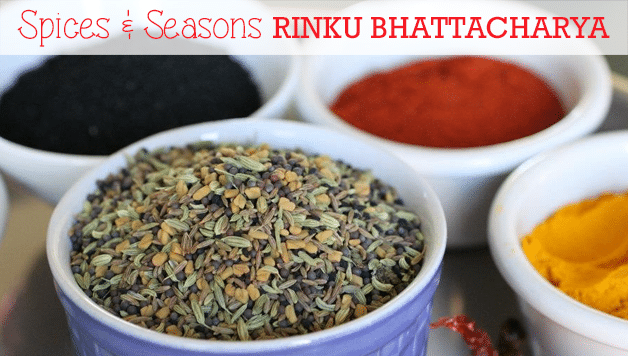 Spices & Seasons – Review and Giveaway
My appreciation for Rinku Bhattacharya's cooking began when I reviewed her first book, The Bengali Five Spice Chronicles and it's a pleasure to review her latest book, Spices and Seasons: Simple, Sustainable Indian Flavors.  Rinku has a wonderful talent.  She is able to connect the history and the heritage of the food she serves with the people she shares it with today.
In her second book, Spices and Seasons, Rinku shares over 150 different recipes, each of which has a colorful vibrant picture that brings the dish to life on the pages of the book.  What's even more impressive is that Rinku took each of these photos herself. Scroll to the end of this post for your chance to win a copy of Rinku's new title.
Rinku is passionate about her Bengali roots, her Indian heritage and her drive to live a sustainable lifestyle.  She brings all of these passions together in Spices & Seasons, and she continues to share the personal stories and tales behind each recipe, just like she did in her first book.
Bhattacharya said the cookbook is her "love letter to the bounty of Hudson Valley, caressed and embellished with techniques and flavors from her native India."
Rinku places a strong emphasis on healthy cooking, and getting her kids involved in a healthy lifestyle.  As a parent who is hyper-aware of the food and drink that we allow our kids to eat, this is refreshing to read.  Rinku speaks to the importance of a healthy lifestyle living starting at home.
If you have a garden, carve out a spot for the children.  They will be very enthusiastic about what they grow.
Every page of Spices & Seasons is clearly marked with some of the most mainstream dietary needs; vegan, gluten free, and vegetarian dishes are easy to find, and there's an index dedicated to each of these dietary needs.  This is a huge benefit to someone like myself who keeps dairy and gluten out of my diet.
To highlight how Rinku does a great job on putting her Indian twist on classic recipes, like her Sweet Potato Soup (page 97) my wife picked out a dinner menu entirely from the pages of Spices & Seasons.
Appetizers
Kale and Potato Patties (p. 47)
Indian Chopped Salad (p. 65)
Main dishes
Chickpea flour crusted fish (pg. 207)
Citrusy roasted beet with toasted spices (p. 259)
Lentil and Quinoa Pilaf (pg. 277)
Desserts
Saffron, Riesling and star anise poaches peaches (p. 340)
or Cardamon-soaked doughnuts (p. 321)
Masala Chai (p. 342)
While Rinku dedicated her first book to her father, the root of many her memories and culinary tales, this book is lovingly dedicated to her children, Khokon, Deepta and Aadi, continuing the circle of life and heritage that she clearly holds so dearly.  Not only is it a pleasure to review this book, it's an honor to consider Rinku one of my friends.  Whether I am looking for a recipe or looking for a great read, I know that I can turn to Spices & Seasons  for a great read.
Awesome weekend reading. I can't put either of these books down. Thank you @SimonMajumdar, @Wchestermasala pic.twitter.com/Taw7RvmEf2

Win a copy of Spices & Seasons