Quinoa Majadra & Bob's Red Mill Giveaway
If you want to experience the real Israeli dining experience, find a shippudiah.  These restaurants, named for the array of grilled meats they serve on skewers (shippudim) aren't looking to cater to tourists and their menus are not in English, but they have a loyal following among locals who will flock there daily for lunch, or to celebrate life's special moments with their loved ones.   When you sit down at a shippudiah, the table instantly becomes a buffet of Israeli salads and side dishes.  Hummus, tahini, Moroccan carrots, matbucha, roasted eggplant, Israeli salads, and if you are lucky; Majadra. All of these delicacies are yours to enjoy with fresh pita bread while you order your grilled, skewered, meat to reach the table.
Whenever I make Majadra my mind is transported back to the very best of the years that I lived in Israel. And the very best of meals. 
Majadra can also be served as a base for Hungarian Goulash or meat stew.  This is one of my favorite ways to eat this dish of rice and lentils.  The flavors of caramelized onions fuse with delicately cooked chunks of beef that have been simmering in tomato and paprika for hours.  Majadra is a dish that has stood the test of time, first referenced in the Iraqi cookbook Kitab al Tabikh, The Book of Dishes, in 1226.   The original version was a dish of rice, lentils and meat topped with caramelized onions.  Today, this dish is often made without the meat and the recipe I am sharing is completely vegan.  And Gluten free.
Now that I've framed this authentic and time-tested dish, I am going to share my version with a modern twist and I'm switching out the rice for quinoa.  You'll find that my recipe is very similar to this classic majadra recipe so if you'd prefer to make the dish with rice you can do that too.  I am also partnering with Bob's Red Mill to offer you the chance to win one four prizes.  One person will win $50 to spend and Bob's Red Mill and three people will win the quinoa and green lentils that you need to make this dish.
Bob's Red Mill is my favorite supplier of natural foods, especially when I need gluten free ingredients.  They are hyper-aware of the needs of the gluten-free and kosher consumer, and their products are of the highest quality.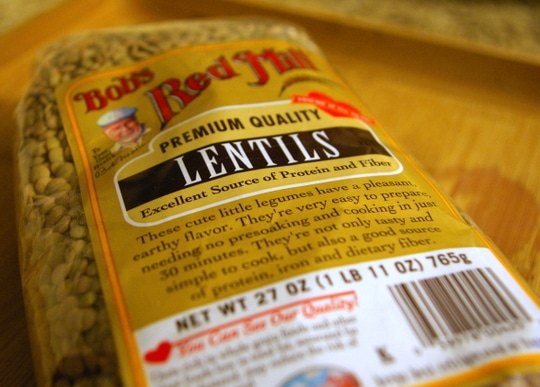 Majadra has three primary ingredients.  Grain, lentils and onions.  I prepare these ingredients separately, maximizing the flavor in each element, combining them into one dish while they are all still warm.  I always like to get my onions on first to give them as much time to cook down.  If you can cook your onions on a low heat for a long time, you'll have a delicious sweetness to your finished dish.
Quinoa Majadra Recipe

Ingredients to serve six

1 cup green lentils. I chose Bob's Red Mill Lentils.
1  bay leaf
2  cups water
1 1/2 cups quinoa
1 teaspoon cumin
1 teaspoon ground cinnamon
2 baseball sized red onions
Salt and Pepper to taste

Preparing the onions:
Chop you red onions.  Heat a teaspoon of olive oil in a skillet and cook the onions on a medium-low heat while you prepare the lentils and the quinoa.  Stir every five to eight minutes so that they don't burn.  A little crunch will add wonderful texture to the dish, but you don't want the onions to burn.

Preparing the lentils:
Soak your lentils for at least 30 minutes.  Remove any debris that floats to the top, rinse and drain.  Cover 1 cup of lentils with 3 cups of water, add the bay leaf and bring to the boil for 2-3 minutes.  Then lower the heat and allow them to cook, covered, for 25-30 minutes.

Preparing the quinoa:
Rinse the quinoa, put it in a heavy pot that has a lid that you will be able to seal tightly.  I used this guy because the lid is a great fit. Add three cups of water and season the quinoa with cumin, cinnamon, salt and pepper.  Cover the pot tightly and bring to a boil.  Once it's boiling, lower the heat and cook for 15 minutes.  Remove from the heat and keep the quinoa covered for another 5 minutes, then uncover and fluff with a fork.  You may notice the small spirals (the germ) has separated separating from the seeds and is curling around.

Final Steps:
In a large bowl, combine the quinoa and lentils, stirring gently so you don't mash the lentils.  Once the quinoa and lentils are mixed, season with a dash of salt and pepper and garnish with the fried red onions.  You can garnish with some chopped fresh parsley or cilantro to give the dish some color.
Enter the Bob's Red Mill Giveaway