Gluten Free Fried Green Tomatoes
It seems like the Kosher BBQ festival was months ago, but in reality it was just two weeks ago that I walked through the door of our house, exhausted, yet exhilarated, after the most enjoyable and memorable culinary weekend of my life.  You see, the weekend wasn't just about #KCKBBQ for me, it was about spending the weekend cooking with some of my favorite food enthusiasts; Simon Majumdar, Chris Jones and my wife.  It all began with a batch of fried green tomatoes!
I promise you that a post all about our our Fed, White & Blue Shabbat Dinner and everything about the BBQ will follow, but this recipe was simply epic. 
Chris arrived the Wednesday before the contest, and we headed from the airport to the kitchen to see surprise ingredients my wife has picked up from the farmer's market for us to make dinner, "Chopped" style.  She gave us a basket of mystery ingredients and we had access to pantry and fridge to make dinner. 
[sociallocker]
[/sociallocker]
Chris immediately had a direction for the green tomatoes… we took inspiration from the south and fried them.  Perfect with our BBQ ribs and brisket that were slowly smoking outside.
 This was the first time I had ever eaten a Fried Green tomato and a gluten free batch was really very simple.  Chris took the lead on this dish and we spent the evening drinking home-made vinegar, small-batch-gin and red wine.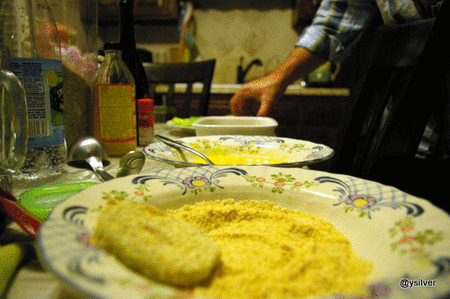 I'd say there are really two secrets to great fried green tomatoes.  One is double-dipping the tomatoes, the second is the temperature of the oil.  Make sure you are frying at a high heat so you get an awesome crisp sear on the outside  You just need two or three minutes before you flip the tomato so be prepared to work quickly. 
Gluten Free Fried Green Tomatoes

Here are the ingredients for this gluten-free treat.  I've made these twice in the last two weeks — green tomato season is short so grab them while you can!  Serves Four to Six

Four Firm Green Tomatoes
Two Eggs
1 cup chickpea flour or rice flour (any gluten-free flour would work)
3 cups gluten-free matzoh meal (or breadcrumbs)
1 tsp garlic powder
1 tsp paprika
1/2 tsp salt
1/2 tsp black peper
Coconut oil for frying

Here's how you make them: 

Start by slicing your green tomatoes.  Keep them thick, you may only get four or five slices per tomato.  Put them on a plate and lightly salt them.  Set them aside for about 15 minutes so the salt can draw out the moisture. 
Put the chickpea or rice flour in a shallow bowl or plate.  Crack the eggs and put them in a shallow bowl, beat them so you have an egg wash and place it next to the flour.  Finally, mix the breadcrumbs with the seasonings and put them next to the egg-wash so you have an assembly line. 
Heat the coconut oil in a skillet.  Coconut oil is great for this dish as it is resilient at a high temperature and will not start to burn, excellent for the crispy layer of breadcrumbs. 
Dip the sliced tomato in the flour, then the egg, followed by the breadcrumbs then place it in the oil.  Fry for about two minutes, flip, fry for two more minutes, then put on a paper towel to absorb any excess oil.
Repeat until you're done frying.