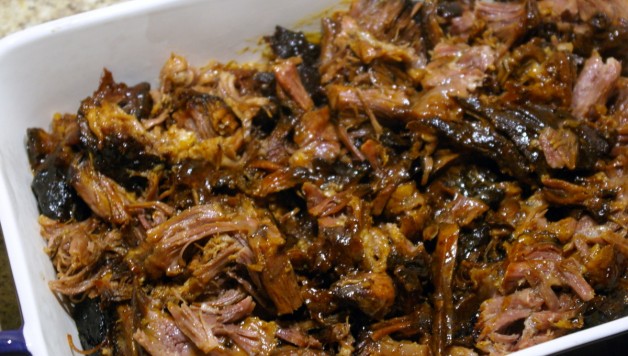 July means BBQ, and in the Mid West, BBQ doesn't just mean hamburgers and hotdogs on a grill.  It means smokers, marinades, dry rubs and smokers.  Next month will see the second annual Kosher BBQ Festival and all over the city, competitors are practicing.
I made this BBQ using a 4lb minute roast.  Although the name would imply this cut of beef cooks quickly, it reaches perfection when you prepared on a low heat for a long time.
Rather than using the rub I use for my Mexican grilled brisket, I used a simple seafood seasoning.  This might sound strange but if you look at the ingredients on most beef, chicken or fish seasonings, there is a common theme of paprika, garlic, pepper and chili powder.  These flavors work well with beef. 
[sociallocker]
[/sociallocker]
Before moving to the slow cooker, I went outside with the minute roast and set up the smoker.  A steady 225 degree heat and some hickory wood infused the beef with a wonderful smoky flavor that carried through to the final dish.  After sixty to ninety minutes on the smoker, I had some great grill marks and I knew I'd have the flavor I was looking for.
Allow the beef to sit for ten to fifteen minutes so that the juices get absorbed into the meat, then cut the roast in half so that it will lay flat into the bottom of the slow cooker.  Don't worry if it's a little raw in the middle, you're going to cook it in the slow cooker with plenty of sauce overnight.  The beef will get tougher before it softens.  Cook this overnight and when you try and lift the beef with a fork, it will just fall apart.  That's when you know it is ready.
Pulled BBQ Beef

Ingredients

4lb Minute Roast
2 tablespoons seafood seasoning
4 cups BBQ sauce
Wood chips for smoking

Preparing Pulled BBQ Beef

Lightly cover the beef with the dry rub
Place the beef on the smoker with the fattiest side facing up
Smoke for 60-90 minutes
Remove from the smoker, let the beef sit for 10 minutes
Cut the roast in half, set it on the bottom of a slow cooker
Cover with 4 cups of your favorite BBQ sauce
Cook on low for six hours
Once cooked, remove from the beef from the slow cooker
Pull the beef apart with two forks
Set the BBQ sauce aside, save for serving with with beef or pouring over the beef when you reheat the dish.