Balsamic Marinated Eggplant Crostini with Cilantro Lime Tahini
Thirteen years ago, Malcolm Gladwell's popular science book, The Tipping Point: How Little Things Can Make a Big Difference  hit the shelves.  I first heard of the book when I was new to life in Israel and the book was rising in popularity ahead of the 2005 launch of Gladwell's second work, Blink, when someone turned to me one day and told me I was a connector.
Connectors, are the people in a community who know large numbers of people and who are in the habit of making introductions. A connector is essentially the social equivalent of a computer network hub. They usually know people across an array of social, cultural, professional, and economic circles, and make a habit of introducing people who work or live in different circles. They are people who "link us up with the world … people with a special gift for bringing the world together."  They are "a handful of people with a truly extraordinary knack [… for] making friends and acquaintances". – The Tipping Point, page 38
The more I think about this statement, the more I believe that foodies, especially those that choose the internet for their creative outlet, are all connectors.
Food bloggers invest time in networking, often eating with other bloggers.  The picture of a restaurant setting painted by Anthony Bourdain in Kitchen Confidential could be seen as a dog-eat-dog world, or a world in which people develop friendships, loyalties, and grown in their careers together, overlapping or reconnecting as the years pass.
Foodies can certainly enjoy food alone but would rather share the experience with other people.
I want to cook for you.  I want to break bread with you.  I want to open a bottle of wine and stay awake long after the food as run out as friendships are nourishment for our souls.
I made this dish recently, reconnecting with some friends I used to work with.
Balsamic Marinated Eggplant Crostini with  Cilantro Lime Tahini
There are a number of different parts to this dish — but it is an inexpensive dish that is easy to make ahead of time, and serve as an appetizer.  I have broken down this post into the different elements, but you will need the following ingredients.
One loaf of challah
1 tablespoon zaatar
Cilantro
Olive Oil
Juice of one lime
Five cloves of garlic
One large eggplant
One cup balsamic vinegar
Half cup shelled pistachio nuts
Sun dried tomatos
Let's get started with the crostini:
Challah Bread Crostini
From the list above, you need the folowing ingredients for the crostini base: Challah, zaatar and olive oil
Slice a challah – I used a vegan, whole wheat challah.  If you are using a bread that has egg in, the dish will be vegetarian and not vegan.
Set the challah on a plate and sprinkle zaatar lightly over the bread.  Put a griddle pan on a medium heat and drizzle a touch of olive oil to make sure the bread doesn't stick the griddle.
Drizzle lightly with olive oil and let the bread sit for ten minutes to absorb some of the olive oil.
Once the griddle is warm, add the bread and cook for five or eight minutes, until you have awesome grill marks on the bread, flip and repeat for grill marks on the second side.
Cilantro Lime Tahini
From the list above, you need the following ingredients for the cilantro lime tahini: Tahini paste, two cloves of garlic, half a bunch of cilantro, olive oil, juice of one lime, salt to taste.
Tahini is super simple to make from scratch.  I often make it before making my hummus and it is delicious with fresh veggies.  In fact, I just saw a delicious looking roasted sweet potato and tahini dish in Jerusalem by Otteolenghi and Tamimi.
To make this cilantro lime tahini, put one cup of tahini paste into a small food processor (if you don't have one, it's $30 well spent!) followed by a tablespoon of olive oil,  two cloves of garlic, half a bunch of cilantro, juice of one lime and salt to taste.
Blend the ingredients for no more than a minute, you will see when the texture looks right.  Add more olive oil for a nuttier flavor and to add a touch of color.
Balsamic Marinated Eggplant
From the list above, you need the following ingredients for the eggplant:  One large eggplant, three cloves of garlic, salt, one cup of balsamic (red wine) vinegar.
Whenever cooking with eggplant, begin by salting it.  Slice the eggplant thinly and lay on a cookie sheet, then sprinkle with salt.  This process is called degorging and removes excess mositure from the vegetable.  The larger the eggplant, the more bitter the mositure, and the greater the need to degorge. You might want to slice some of the larger eggplant rounds in half.
After 30 minutes, put your eggplant in a sealable, non metalic, bowl or container, add three cloves of garlic, chopped, and one cup of balsamic vinegar.  Let it sit for at least two hours.  Overnight is even better.
Note – I say balsamic vinegar but  most balsamic vinegar, especially kosher stores, is fake!  Balsamic vinegar is not made like a wine vinegar, it's a reduction of cooked grape juice, not wine, that's aged for several years in aromatic wooden casks which impart the traditional flavor.  If you paid less than $40 for your balsamic, it's likely just a fancy  red wine vinegar – and that's all that's needed for this dish!  Hat tip to Dinner in Venice for this clarification.
Heat the griddle pan, drizzle some olive oil and cook the eggplant just like you did the crostini.  A few minutes on each side will give you those awesome looking grill marks.
Assembling and plating Eggplant Crostini Appetizers
Just a few more steps before we assemble the crostini.  We will combine the different elements of this dish along with the final ingredients – cilantro, sun dried tomatoes and pistachio nuts.
Using that mini food processor, or a pestle and mortar, shell and crush about a dozen pistachio nuts then finely chop some fresh cilantro leaves and your sun dried tomatoes.
If you made the bread or eggplant a day ahead, reheat them gently in the oven at 250 degrees for no more than 20 minutes.  This dish should be neither hot or cold.  Certainly warmer than room temperature, but still a temperature that it can be held in the hand.
Spread about a teaspoon of the cilantro lime tahini onto the challah bread crostini, then lay a slice of eggplant on top. Add another touch of tahini then sprinkle with the cilantro, sun dried tomatoes and pistachios.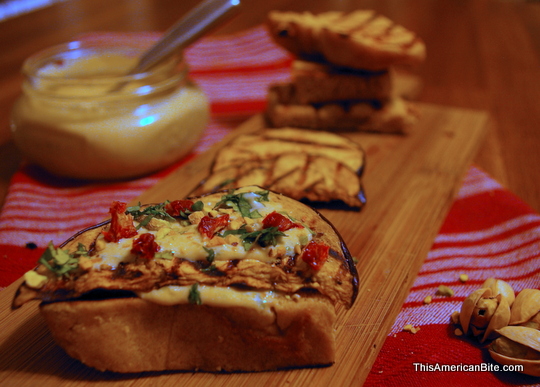 Serve to your favorite friends with a bottle of your favorite wine, and lose track of time.  Enjoy!