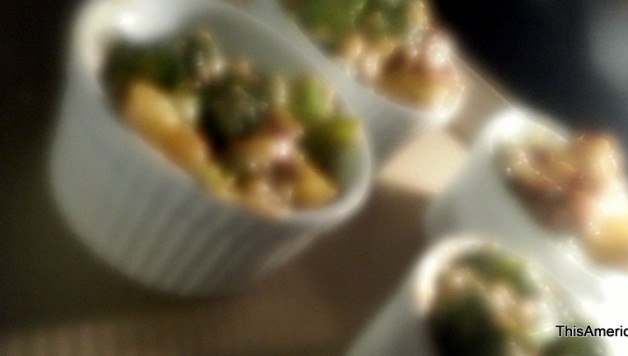 Broccoli and Potato Daiya Cheese Bake – Vegan
I've been itching to cook with my ramekins ever since that little box arrived from Amazon a few months back. The chicken pot pies didn't happen, neither did the apple pies, chocolate souffles or mac and (cashew) cheese bowels. I was starting to wonder if this impulse buy was ever going to see the inside of my oven. Tonight, when I got home from work I dozed off in front of the TV and woke to vintage Paula Deen with a plate of cheddar broccoli bake in one hand and a stick of butter in the other. A light went on in my mind and I reached for the Daiya Vegan Cheese, broccoli and potatoes sitting in my fridge and I got right to work. Not only did this cheesy vegan delight, intended as a side dish, turn in to dinner, but I was able to make some delicious baked broccoli "fries" with the stalks.
For the last month, my culinary philosophy has been "cook one, freeze one" in preparation for the arrival of baby number two but I figured my shiny white ceramic buddies wouldn't fair well in the freezer, so half of this recipe was baked in ramekins for dinner tonight, and half was baked in a 5×10 loaf pan which cooled and is now waiting patiently in the freezer for the baby to arrive.
Broccoli and Potato Daiya Cheese Bake (Vegan)

You will need the following ingredients:
4 medium sized potatoes
3 cups of non-dairy milk – I used a combination of soy milk and coconut milk
1 1/2 cups of grated daiya cheese wedge – I used the cheddar style cheese (approx. half a block)
2 tablespoons of whole wheat flour
2 stalks of organic broccoli
1 red onion
Thyme
Salt and Pepper to taste
Ordinarily I avoid the microwave, but tonight I wanted to get the potatoes started so I put them in a glass bowl, covered in water, and microwaved them for about 12 minutes. While the potatoes are cooking, heat your non-dairy milk on a low light and sprinkle 2 teaspoons of dried thyme. When the milk starts to boil, add your grated daiya wedge while mixing gently and keep on a low light, stirring occasionally.
Heat a dash of olive oil in a skillet on a medium light and begin to sautee your red onion.
Pluck the florets from your broccoli (and save the stalks to make these) and set them in a bowl of cold salt water for five to ten minutes. and turn your attention back to your daiya cheese sauce. Sprinkle whole wheat flour into the mix and stir gently, adding a little at a time until it thickens.n. When cooked, dice the potatoes and add to the skillet so they can get a brown and crispy on the outside. Don't forget to give your cheese sauce the occasional mix so it doesn't burn.
Rinse the broccoli, put in a glass bowl and add the sauteed potato/red onion, then pour your cheese sauce on top and mix gently until combined. Season with salt, pepper and more thyme to taste, mix again then ladle the mixture into your ramekins or loaf pan. I sprinkled garlic breadcrumbs on some, not on others, and put in to the oven at 400 degrees for as long as it took to for our two year old to enjoy bath and bed time (approx. 20 minutes).
Serve warm, a dash of hot sauce goes a long way if you like a little spice. My ramekins have now been put to good use!