Welcome to the Kosher Connection, home to a network of kosher food writers. The Kosher Connection is an informal group of creative kosher food bloggers from all around the world, who present a monthly recipe challenge using Kosher ingredients. All kosher bloggers are welcome to participate in the monthly recipe link up. Member resources can be found here.
Use this form to search all Kosher Connection websites:
Get the Badge
Please copy this code to add the Kosher Connections badge to the sidebar of your blog, or to the body of your post.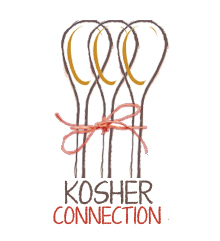 <p style="text-align: center;"><a href="https://thisamericanbite.com/kosher-connection/"><img class=" wp-image-1139 aligncenter" style="border: 1px solid grey;" alt="The Kosher Connection is a group of Kosher Foodies that share ideas, recipes and culinary experiences together. " src="http://farm9.staticflickr.com/8072/8310958963_72cb3ede1b_o.jpg" width="176" height="193" /></a></p>
Follow the Kosher Connection


Latest Kosher Connection Tweets